Our free online Phone Number Extractor web application allows you to extract phone numbers from other text files.
It can intelligently extract, trim and arrange Nigerian GSM numbers in a format that can be readily exported to other mobile or online aplication.
Other cool features of this free online phone extractor software includes:
Sort phone Numbers
Remove duplicates from phone numbers
Extract phone numbers into groups of specified lengths.
Preserve and Replace logic
Job emailing options.
Custom phone number separator options.
With our automated GSM and Phone Number verification system, we can help you sort your contact's phone number or GSM database based on the active and inactive phone numbers. Our active phone number screening & verification service can help you to build a 100% active and updated numbers from your phone number database.
Features:
The numbers will be screened individually and it will be sorted into active and inactive numbers. We can screen for active phone numbers regardless of the country.
How it works
Make payment into our account using the details below, then send the numbers to be screened to our email sms [at]ufumes.com. Once your payment reflects in our account, we will start up the number screening process. Depending on the volume of tasks queued up in our system, verification may take 2-3 days to be completed.
Pricings
Below 1000 numbers …………………. N0.50 per number
1000-10000numbers …………………. N0.40 per number
Above 10,000 number ………………… N0.30 per number
Payment Details
UFUMES RESOURCES
Zenith Bank [ 1 0 1 2 9 2 8 8 2 7 ]
(Use your email address as the depositor name, then include your payment information in your email)
For more information >>
+2348O9O749257, sms [at] ufumes.com
Download the Desktop Version of our Phone Number Extractor Application & Bulk SMS Software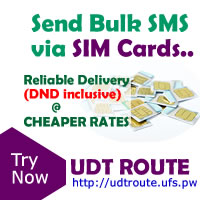 Online Marketing and Advertisements Via Bulk SMS
We can provide you with the GSM Numbers of Nigerians with Specific interests.
We also have the State Wise categorization of the database of Valid Nigerian phone Numbers. The numbers are further classified into Local Government. Download details
We can also help you with sending customized and BulkSMS to advertise your interests to your target audience and contact lists.
Contact Us Today!
+2348O9O749257
sms [at] ufumes .com